Midwest Special
Saturday - June 9, 2001
While most of my Railfan Reports are about trips around the Pacific Northwest, every now and then I like to travel someplace different. North Dakota is a state I have never visited and I was curious to see what it was like. That said, this is a special 10 day trip I took to Minnesota and North Dakota during June 2001 with plans to follow BNSF's ex-NP main line west towards Valley City, ND. This line from Minneapolis to Fargo is BNSF's main route to the Pacific Northwest. Many coal trains also travel this route. This will give those who have never been there an idea of what it is like.
Saturday June 9
This morning I left Seattle at 8:15 am on a Northwest flight to Minneapolis arriving there at 1:30pm. After picking up my rental car my plan was to drive towards St Cloud, MN where I would be spending the night. The weather upon arrival was a mix of sun and clouds and temps in the 70's. Northtown yard in Minneapolis is MP 13 and the Milepost's get higher as you head further west. St Cloud, where I was staying tonight is MP 73. It is double track as far as Big Lake (MP 47) and single track as far as Becker which is at MP 57. From here it's double track again all the way through St Cloud. Highlights are the Hwy 10 overhead crossing east of Big Lake and a neat curve through the town of Clear Lake at MP 62. Six trains were seen this afternoon and they are as follows:

1)  WB Z       BN 6334/7002/6791  at MP 34.5  (east of Elk River)  @ 1528
2)  EB Stacks  BN 7266/BNSF 3186/ATSF 325     Bridge 46 near Big Lake @ 1624
3)  EB Z       BN 7894/BNSF 8036/6736/1117    Becker, MN @ 1850
4)  WB Stacks  BNSF 748/1088                  Becker, MN @ 1918
5)  EB GM      BN 7800/CP 5982/BN 7911        Clear Lake, MN @ 1925
6)  WB Stacks  BNSF 789/4330                  Clear Lake, MN  @1940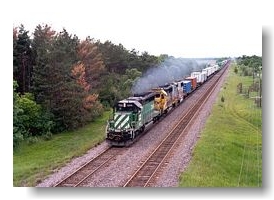 BN #7266 East Bridge 46 near Big Lake, MN on 6-9-2001.
Click on photo to see full size
Sunday June 10
As I would find out, today would be a very slow day. Too bad as it would be sunny and warm. Plans were to drive to Little Falls today where the Mississippi River is crossed by the BNSF and fan the area around here. Little Falls is at MP 106. Highlights east of St Cloud is Sartell (nice overhead bridge) and Gregory where the double track ends at MP 103 for the single track run thru Little Falls. A cantilever and signal bridge, probably of NP origin are also here making for great backdrops. There are also the towns of Rice and Royalton. (both with traffic lights on the highway that always seemed to be red while chasing trains!) I would end up heading west of Little Falls looking for a train as it was that slow. By the end of the day, just four trains would run in daylight hours.

1)  EB Stacks  ATSF 545/ATSF 337/BNSF 7885  Darling, MN  (MP 110) @1329
2)  WB Stacks  BN 7128/BNSF 6880/6341       Rice, MN  (MP 88) @ 1427
3)  EB GM       BN 7878/BNSF 3009/7890      Rice, MN  (MP 88)  @ 1430
4)  EB Stacks  ATSF 938/ATSF 629            Sartell, MN  (MP 78)  @ 1500

No coal trains and no Z trains. Very strange! That and everything ran within a 90 min. period!!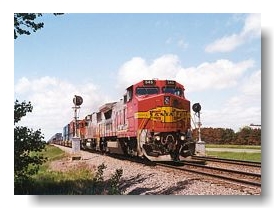 ATSF #545 East (MP 869) East of Rice, MN on 6-10-2001.
Click on photo to see full size
Monday June 11
An overcast morning. From Little Falls I would be heading to Staples (MP 140) where the line to Superior/Duluth branches off. East of Lincoln, MN is a little used overhead bridge that leads to the tiny town of Lincoln. Driving along that road this morning came upon a bear standing in the road. After seeing me it took off into the woods. 11am came and went and still no trains! Then Thunderstorms began brewing all around me. Talk about interesting cloud formations! Finally at 1140 the first train showed and then it got busy. And then it got stormy! A lot of trains but a lot of rain. About 3pm the dispatcher told all trains to stop where they were. A tornado warning had just been issued. It was 61 degrees and raining hard at Staples where I waited it out. It was after 4pm when the trains began moving. No tornados here but there were some around Minneapolis I later heard. Later that evening I checked into a motel at Staples for the night. These are the trains seen this rainy day. Wish it had been sunny!

 1)  WB Stacks  BNSF 4483/BN 8038            Lincoln, MN  (MP 127) @ 1140
 2)  EB Stacks  ATSF 669/BNSF 5440           Lincoln, MN  @ 1200
 3)  WB V       BNSF 5380/BN 7852/7248       Lincoln, MN  @ 1230
 4)  WB GM      BNSF 4664/BN 5587            Lincoln, MN  @1239
 5)  EB Stacks  BNSF 4525/4501               Lincoln, MN  @ 1250
 6)  WB GM      BNSF 4731/6784               Staples, MN  (MP 140)  @ 1423
 7)  EB GM      LLPX 2801/2808/2807/BN 8095  Staples, MN   @ 1440
 8)  EB Coal    BNSF 9994/BN 9473            Arr Staples, MN  @ 1530
 9)  EB GM      BNSF 4598/8274/7302          Staples, MN  @ 1617
10)  EB GM      BNSF 8025/BN 3139/CSX 8140/BN 6334  Staples @ 1638
11)  WB Z       BNSF 775/1117/4409           Staples  @ 1655
12)  WB Z       BNSF 6876/BNSF 6403/BN 6844  Staples @ 1702
13)  WB E       BN   9275/EMD 9098/BN 9218/EMD 9029/9067  Staples @ 1714
14)  WB E       EMD  9045/EMD 9001           Aldrich, MN (MP 154) @ 1730
15)  EB G       LLPX 2806/2803/2805/2809     Staples @ 1801
16)  EB GM      BNSF 8092/3180/125/8622      Staples @ 1824
17)  EB V       BN   7815/BN 8090            Staples, MN  @ 2021

Could have used some of these trains yesterday! Of note is the BN 5587 (C30-7) the BNSF 6403 (SD45) and CSX 8140 (SD40-2) 5 units on an empty coal train strange too.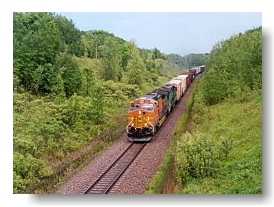 BNSF #4664 West (Br 124) near Lincoln, MN 6-11-2001.
Click on photo to see full size
Tuesday June 12
Morning in Staples, bright and sunny! Today I would drive to Perham, MN (MP 189) close to halfway to Fargo. Trains started running first thing this morning. Interesting locations west of Staples would be Verndale (MP 159) with a BN caboose on display and Wadena (MP 165) with an old unused depot still standing. Hwy 10 also crossed the tracks at MP 183 with straight views both ways. Weather would be pretty good all day so I was pleased with that. At the end of the day, I checked into my motel at Perham. These are today's trains:

1)  EB Stacks  BNSF 6319/BN 7912             Staples @ 0709
2)  EB X       BNSF 5333/722/7242            Staples @ 0734
3)  WB GM      BNSF 6457/ATSF 575            Staples @ 0850
4)  EB Stacks  BNSF 4683/4737                Staples  @ 0927
5)  EB Coal    BN   9212/EMD 9037/EMD 9008   Verndale @ 1028
6)  EB GM      BNSF 772/BNSF 1023            Verndale @ 1230
7)  WB E       BNSF 9424/BNSF 9761           Aldrich, MN  (MP 155) @ 1415
8)  WB Z       BNSF 4895/ATSF 806/BNSF 4980  Br 183  @ 1520
9)  WB Z       ATSF 629/BNSF 6351/BNSF 3028  Br 183  @ 1628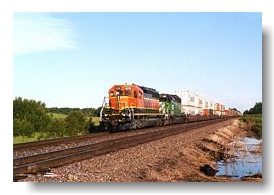 BNSF #6319 East Staples, MN on 6-12-2001.
Click on photo to see full size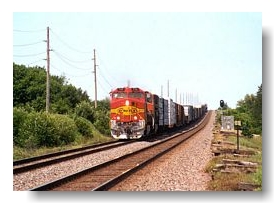 BNSF #772 East W. of Verndale, MN (MP 160) on 6-12-01.
Click on photo to see full size
[Top of Page]